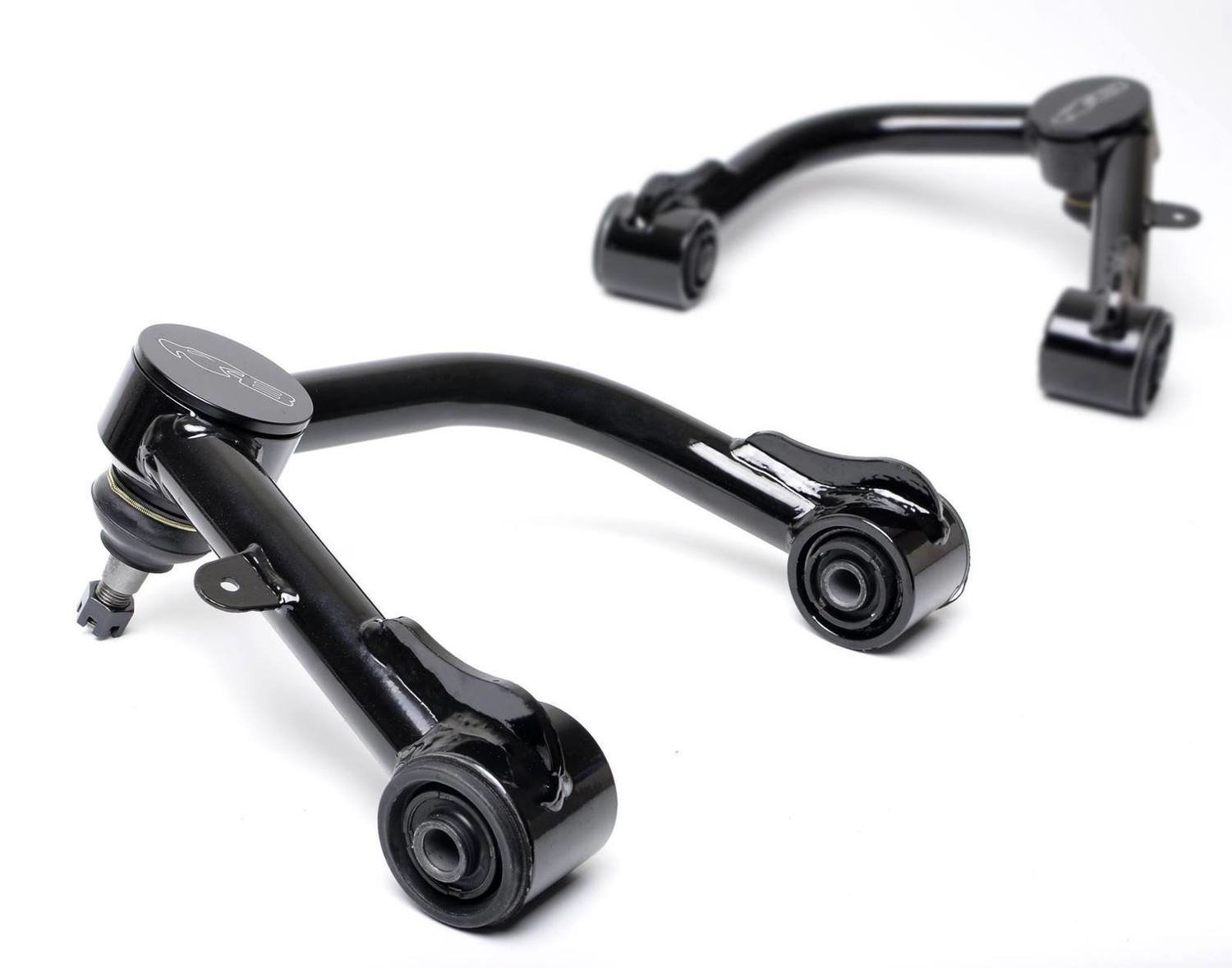 Blackhawk Upper Control Arm Isuzu Dmax 2012-16
SKU 00098
Product Details
Isuzu DMax
Blackhawk Upper Control Arms
The heavy duty Black Hawk range of Upper Control Arms have been designed with ease of fitment and ongoing serviceability in mind, and are a necessity for various IFS models that have been lifted 30mm+. The "Black Hawk" arms have been designed to restore camber & caster lost on the IFS vehicles once they have been lifted, by correcting the angle of the ball joint. Without restored camber & caster settings on lifted IFS vehicles will eventually show excessive Tyre wear and expensive ride & steering issues.
With greater radius and tube sizing to suit per application, the designs allow clearance of the coils during application, with the outer radius also adjusted to allow for the fitment of 35 inch tyres without having the issue of the tyres rubbing on the arms during full lock. Manufactured in Heavy Duty 32mm OD (6mm wall thickness) Carbon Steel Tube - for optimum strength without putting too much additional weight on board.
"Blackhawk" Upper Arms are designed with 3 degrees fixed caster and optimally suited o lifts of 30-70mm, finished in dual layer coating including black e-coat and gloss black powder coat for maximum durability, rust protection and discreet installation.
Features & Benefits
Angled Ball Joint Aperture - allows for better articulation of the ball stud.
Re positioned Ball Joint Aperture - 3 degrees increased caster & maintains camber.
OE Spec Ball Joint Aperture- takes standard factory or aftermarket ball joint.
Revised Radius Bends (Internal) - increased suspension articulation.
Revised Radius bends (External) - allows fitment of larger tyres.
OE Spec Bushing Aperture - takes standard factory or aftermarket bushings.
Heavy Duty 350mpa 32mm OD Tube (6mm wall) - increased strength over factory arm unit.
Powder Coat Finish - Dual layered coating with a Gloss Black PowderCoat.
Save this product for later