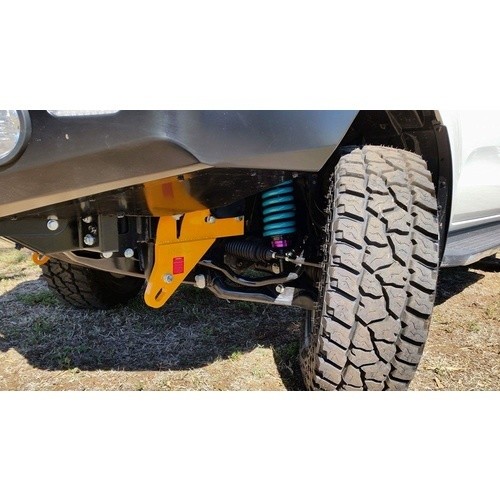 Roadsafe Heavy Duty Recovery Point Kit - PX & PX2 Ranger, Everest & 11/2011 On BT-50
SKU RP-RAN02
Product Details
Roadsafe Heavy Duty Recovery Point Kit - PX & PX2 Ranger 11/2011, & Everest 2015-ON On BT-50 RP-RAN02
Decent recovery points should be mandatory on all four wheel drives. In fact, there is a reason every 4WD club in Australia will specify that before even commencing driver training, the vehicle must have quality recovery points fitted.
From the factory, most vehicles have towing and tie down points fitted to the chassis, and a common misconception is that these are safe for recovery. The factory fitted tie down & towing points are for strapping down the vehicle on a ship or tow truck only, these are not to be used as recovery points, and have been known to shear off, with potentially fatal consequences.
Roadsafe design all of their recovery points as a vehicle specific kit, including all hardware. All kits are FEA tested and rated accordingly, ensuring that you and any spectators are safe during any recovery. Don't be fooled by cheap knock offs that are not rated!
Sold as a pair kit with hardware included, these recovery points are essential before you go out and hit the tracks.
These recovery points are rated to 5000kg each , and accept a 4750kg Bow Shackle or 9000kg Soft Shackle in each point.
Kit Contains:
2 x 5000kg rated recovery points
1 x Fitting Hardware Kit (inc all nuts & bolts)
This recovery point kit is designed to fit:
Ford Ranger PX MK1 2.2L & 3.2L
Ford Ranger PX MK2 2.2L & 3.2L
Ford Everest (All)
Mazda BT50 (Coil Front)
Save this product for later