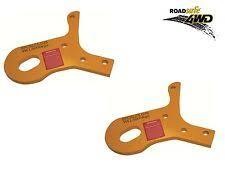 Toyota Landcruiser 75 series Heavy Duty Roadsafe Recovery Points RP-CRU75
SKU RP-CRU75
Product Details
Toyota Landcruiser 75 series Heavy Duty Roadsafe Recovery Points RP-CRU75
Heavy Duty Roadsafe Recovery Points RP-crus75
Tow Points have been designed as matched pairs, supplied in LH/RH for vehicle specific fitment. Your purchase will include high tensile bolts, and any additional, vehicle specific mounting hardware required to ensure secure fitment to vehicles. Correct fitment of these components is critical for yours & others personal safety.


Each pair of Tow Points is supplied with vehicle specific fitment instructions. These instructions should be followed during fitment to ensure all steps are taken for correct installation, so when required, the points will be at their optimum Working Load Limit (WLL) as stamped. It is the Tow Points themselves as supplied that have been tested to the WLL advised. It is at the vehicle owners discretion for fitment, ensuring that the chassis is adequately designed, constructed and/or rated to suit this application.


It is recommended that Tow Points are fitted by a qualified mechanic with specialist 4WD knowledge, who has an understanding of your vehicle including weights carried, the style of Bull Bar, general usage etc. as in some circumstances these Tow Points may not be suit- able for your vehicle.


These Tow Points have not been tested for lifting purposes & should not be used for lifting, the forces applied differ between lifting and straight line pull type recoveries.


If a recovery is to be performed, it is imperative both recovery points are utilized, ideally with the use of a bridle strap. This will share the load through the front of your vehicle, giving increased strength and safety margins, the use of a bridle strap will also keep all com- ponents tethered in the case of a failure, reducing the risk of serious injury or death.


Always INSPECT the Tow Points and shackles before each use. Do not use if there are visible signs of damage or wear (including cracking or elongation). Do not exceed the Working Load Limit (WLL) of the shackle or Tow Points. Always STAY A SAFE DISTANCE away from the recovery area – at least 1.5 times the length of the recovery strap. Incorrect use of recovery equipment can result in serious injury or death.


Always ensure that adequate PREPARATION for the recovery, to minimise the strain on either vehicle, has been undertaken i.e. Digging, Rock placement etc. If you do not understand how to use this equipment safely or are uncomfortable with your abilities in the use of recovery equipment, please complete a course that specialises in four wheel driving & 4WD vehicle recovery.
Save this product for later